Dr. Jerrold Simon

"Years ago, I used to teach high school mathematics. One day my oldest brother asked me if I wanted to continue being a math teacher forever. After teaching for several years, I wasn't sure if I wanted to teach forever so I asked for any suggestions he might have."
My brother Nick, a nuclear engineer who worked at Jet Propulsion Laboratory, advised me to become a chiropractic physician because his age-old back pain (that medical doctors couldn't heal) had been greatly helped by a chiropractor. "Chiropractic helped Nick immensely and since it was a unique opportunity and intriguing suggestion, I decided to give it a try."
"Before long, I was encouraged and supported by my family to go to professional chiropractic college. In fact, my other older brothers even agreed to help fund my chiropractic education. I enrolled in Chiropractic College (a five year post graduate program) later that year after having taught high school for three years and haven't looked back since."
My Educational Background and Highlights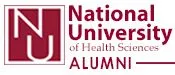 Dr. Jerrold Simon went to National University Health Sciences in Chicago, graduating as Outstanding Senior of his class. "I have four Diplomates in the following specialties: Nutrition, Disability Analysis, Rehabilitation and Electrodiagnosis (EMG)."
"I'm so glad about the change in my career path because I know becoming a chiropractic physician is exactly what I was supposed to do in life."
Our Care Is All About You and Your Relief, Naturally!
"I absolutely love seeing patients getting well and feeling better naturally. It's so fulfilling when patients like you come in and leave as believers in the natural, conservative approach of chiropractic care."
"I hope that in the future, we have fewer skeptics and more people who realize that chiropractic should be their first healthcare option, not their last! Getting well is a process. Surgery and prescriptive medications are often not the answer. But, through chiropractic care, your body can begin to heal itself from the inside out."
Are you skeptical? "Give me a chance; I know you'll be glad you did."
Trying to Spread the Good News of Chiropractic
It is amazing how many people still don't grasp the benefit of going to a chiropractic doctor first, before trying out drugs or surgery. Even now in 2014, for some it's still an afterthought. They have to be referred before they go to chiropractors. People are skeptical to give chiropractic care a chance. Just like medication doesn't help unless you follow up with your physician, chiropractic will take time before you can see the positive results.
"Let me share a short story with you – a story of hope."
"I began my chiropractic practice in 1984 and many things surprise me, even today."
"A while back I had a patient in his 80s who was bent over at approximately a 35 degree forward angle at his hips for 20 years! His surgeon wouldn't perform surgery due to his advanced age. Then someone at his church told his to come see me."
"After a thorough consultation and exam, we did Spinal Decompression Therapy." In just 7 weeks, he was bent forward at less than 10 degrees, could move his feet normally and his pain was much abated. He greatly appreciated Dr. Simon's help as it truly changed his life, even in his advanced years.
This example shows how our perspective on living life and looking forward to the future can change so quickly. "It meant a lot to help him rediscover the feeling of joy."
Helping the Community is My Passion, My Life
"Well, I am always into chiropractic care… somewhere, somehow. " Dr. Simon stays busy helping people in the practice, doing community service and being active in many chiropractic organizations."
"What I love about staying involved is that I'm not only continuously learning, but also I can help teach other chiropractic doctors and help them grow professionally as well."
Singing a Joyful Tune
"I'm passionate about music." Dr. Simon's first degree was in Music Theory and Composition – he majored in Composition and minored in Voice and Piano at the University of California, Santa Barbara. "My passion is to play the piano, especially classical works, but also jazz and Broadway classics. I've written many pieces for the piano. My pastime is to play and compose ragtime music. I've written several pieces that I've played at various ragtime festivals."
"My Bicentennial Violin Sonata in B flat was written in 1975 was performed at Santa Barbara, California Music Hall, so I'm very proud of that piece. I like to frequent musical venues, especially New Orleans, as I enjoy the jazz culture and music! I have performed on stage, in auditoriums and in night clubs in the past; it is still so enjoyable to me."
My wife Annette (www.aksimonart.com) is a well-known artist in the Midwest. She is affiliated with the famed "Studios on High Gallery" in the Short North, Columbus, Ohio which attracts people from all over. In fact, her artwork can be found in homes, offices and businesses throughout the United States and Europe. She is Past President of the Central Ohio Collage of Women Artists and continues to paint on a regular basis.
Special thanks to my accountant Ron Delaney, CPA who has been very helpful to my practice in keeping our office financially sound while we focus on getting our patients well.
"I'd love to meet you and see how I can help! Give me a call at 740-653-2973 so we can get started."